THE ICE RINK IS NOW CLOSED.
Join us for our 18th season from December 15, 2023-January 15, 2024!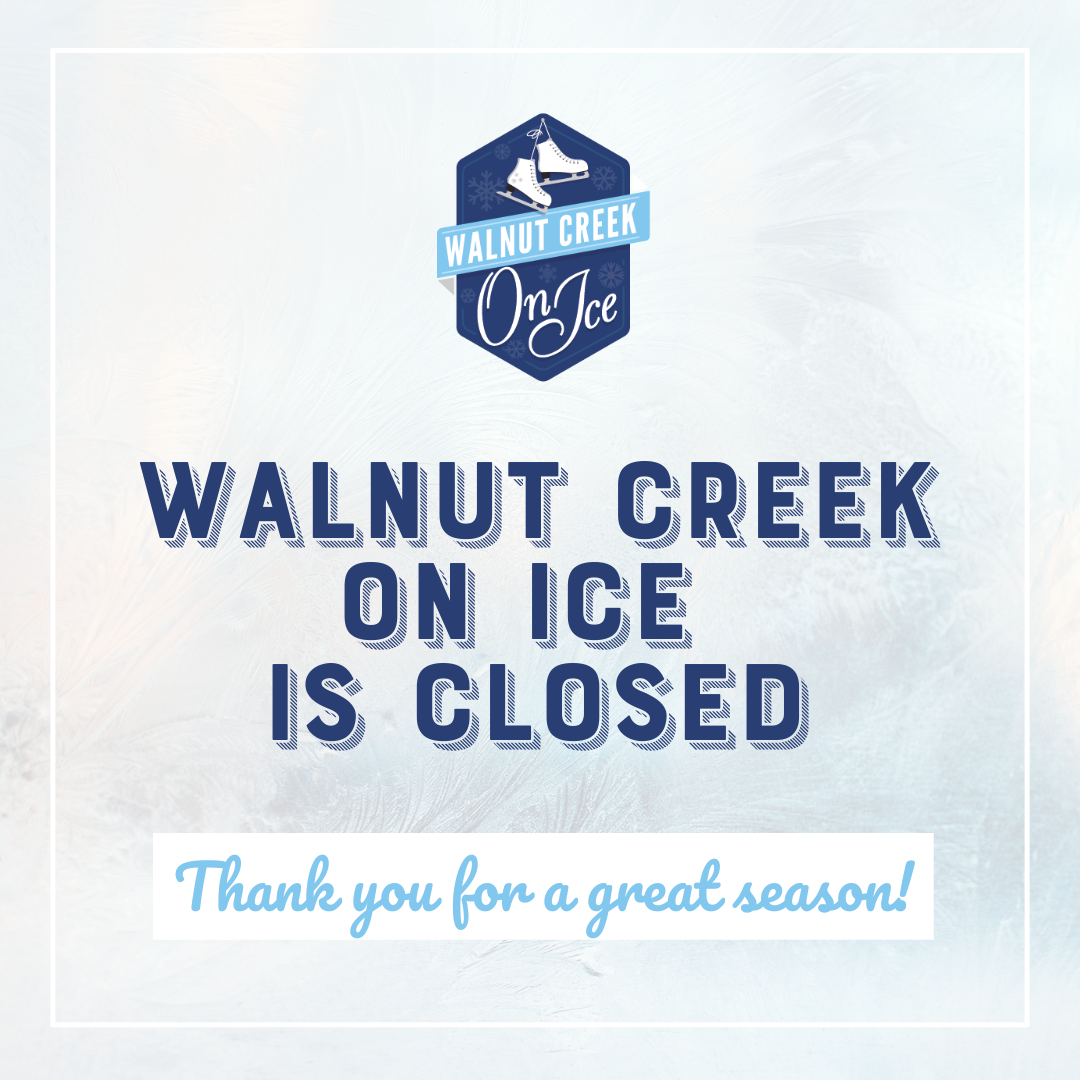 THE ICE RINK IS NOW CLOSED. THANK YOU FOR SKATING WITH US FOR OUR 17th SEASON!
We appreciate the continued support of Walnut Creek on Ice and look forward to reopening on December 15, 2023 for our 18th Season. To stay informed on updates for the next season, subscribe to our mailing list!
For sponsorship inquiries and any other questions, please fill out the form below or contact Walnut Creek Downtown at services@walnutcreekdowntown.com for more information.
We look forward to skating with you next season!
** THIS SEASON IS A COMPLETELY CASH-LESS EXPERIENCE! **
ONLINE TICKETS: Please have your receipt pulled up on your phone or printed in-hand to be scanned, before getting to the cashier.
ONSITE TICKETS: The following payment methods will be accepted: Apple Pay, Google Pay, Cash App, Visa, Mastercard, Amex, Discover. NO cash will be accepted. 
Rink Capacity is Limited:
Advance booking is highly encouraged to ensure capacity is not met for your desired skate time. Guarantee your 90-minute skate session by purchasing your tickets online.
General Admission
December 9, 2022 – January 16, 2023
$20/person, 90-minute session
Includes skate rental
Note: Children 3 and under are free with a paid adult skating admission.
Schedule subject to change, please see calendar.
Family Skate Session
Tuesdays 5:00 – 8:30 p.m.
Frequent Skater Passes are available to purchase at the rink. Each pass is good for 10 visits at the special price of $179! The pass is valid for only one customer during the 2022-23 season.
Skate Instructors for Private Lessons more information is available here
General Public Skating Hour 2022-2023
Mon - Thurs

11:00am - 8:30pm
Open rain or shine! Enjoy ice skating even during the rain in our covered areas.
Drop-In Hockey Skating Hours (Equipment is not provided)
*Drop In Hockey schedule subject to change
Mon - Thur

11:00am - 12:30pm & 8:30pm - 10:00pm

Fri

11:00am - 12:30pm & 10:30pm - 12:00am

Sat

7:00am - 8:30am & 10:30pm - 12:00am

Sun

7:00am - 8:30am & 08:30pm - 10:00 pm
Walnut Creek On Ice is subject to close for Holidays, private parties, and private ice rental at any time. Skate-glider rentals and skates are first come, first served based on availability. It is strongly recommended parents/guardians do not leave skaters under age 16 unsupervised. Rink and seating areas are cleared at end of each session to allow room for next session guests. Please plan on tucking in laces into skates and returning the skates to the skate drop off window when leaving. Please check the open skate calendar below for dates & times of rink closures. Thank you, WCOI.
*Holiday schedule subject to change
Christmas Eve
11:00am – 7:45pm

Christmas
12:30pm – 10:45pm

New Year's Eve
11:00am – 9:15pm

New Year's
11:00am – 10:45pm


Christmas Eve
7:00am – 8:15pm &
8:00pm – 9:15pm

Christmas
7:00am – 8:15pm &
11:00pm – 12:15pm

New Year's Eve
7:00am – 8:15pm &
9:30pm – 10:45pm

New Year's
7:00am – 8:15pm &
11:00pm – 12:15pm


CLICK HERE to learn more about our upcoming events at the rink!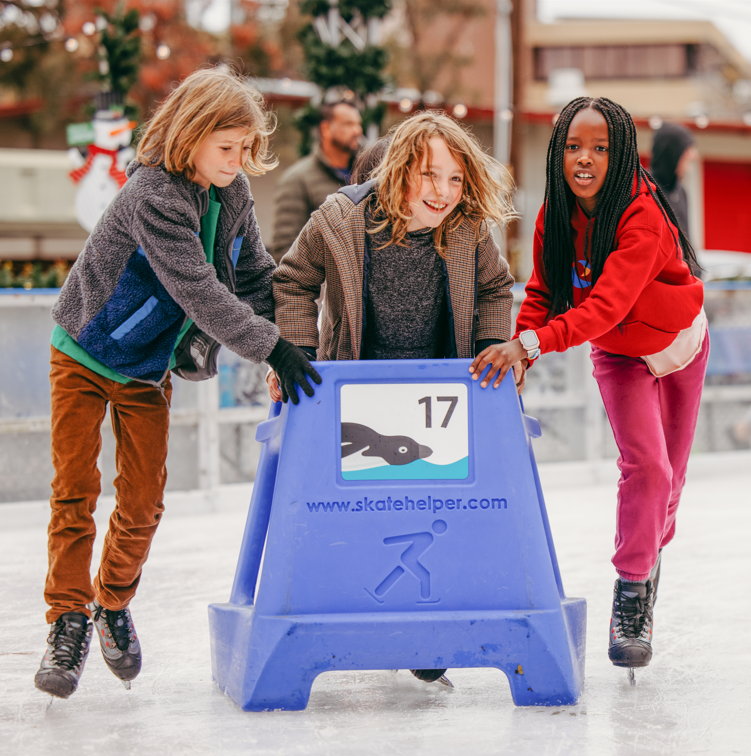 Glider rentals available
First come, first served. $7.50 / 30 minutes
Skating Instructors Available
Want to include a skating lesson for your group or party? For an additional fee, book a private lesson with one of our experienced skating instructors.

Drop-Off & Pick-Up Zone

Conveniently located on the corner of Civic Drive and Broadway, the drop off and pick up zone is designated to drop off or pick up skaters with ease! It's easy, fast and free. Look for the white picket fence on Civic Drive! For the safety of our guests, please do not stop or turn around at the Civic Park parking lot/ice rink entrance.
Parking Options
We have plenty of parking options! Free parking courtesy of local businesses, parking garages, and private lots are all within walking distance.